Brian Cox
Chairman and CEO
Mr. Cox is an accomplished entrepreneur growing best-in-class companies for over 18 years, including guiding a company of over 1,300 employees. He began his career in telecom in 2004 when he founded his first prepaid telephone company (CLEC), which through organic growth and acquisition became the largest prepaid home phone company in the country before being sold in 2009. Since then, Mr. Cox has owned and operated profitable fintech/software and wireless companies utilizing his expertise in underserved consumer markets.
Anthony P. Nuzzo, Jr.
President/COO And Director
Mr. Nuzzo is an experienced financial services owner and operator with a successful track record as a CEO, CFO, and financial consultant while building multiple companies named to Inc. 500's list of fastest growing financial institutions. In 2009, Mr. Nuzzo also served as CEO of Glass Mountain Capital, LLC, a financial services company. He is experienced in running large-scale operations, with an accomplished track record of growing revenues and profits through a disciplined management approach and building winning teams.
Anthony Evers, CPA, CIA
Chief Financial Officer
Mr. Evers is a talented and seasoned financial executive with over 30 years of proven financial and consulting experience. Mr. Evers has served as CFO and CIO for a variety of organizations, including non-profit, private-equity backed, and publicly traded companies ranging from $100 million to over $1.3 billion in annual revenue. Most recently, he served as Chief Financial Officer for Vista Health System. Mr. Evers also successfully obtained his Certified Public Accountant and Certified Internal Auditor credentials.
Derron Winfrey
President of ECS Prepaid Wireless
Mr. Winfrey is an underbanked and prepaid subject matter expert. He guided ECS, a leading provider of prepaid wireless load and top-ups, to over $600mil in revenue from 9,800 locations while managing 160 salespeople. ECS processes over 18,000 transactions per day.
Mr. Keys began his career with Deloitte serving in the audit group. David was the Executive Vice President, CFO and member of the executive committee of the Board of Directors of American Pacific, a chemical company that was publicly traded on the NASDAQ for many years. He has served various boards including Wells Fargo Bank of Nevada. Mr. Keys is a Certified Public Accountant (CPA), Certified Valuation Analyst (CVA), Certified Management Accountant (CMA), Chartered Global Management Accountant (CGMA), Certified Information Technology Professional (CITP)and Certified in Financial Forensics (CFF).
David Ansani, J.D.
MBA – Chief Administrative Officer (CAO) & Secretary
Mr. Ansani has a background in legal compliance, negotiation, finance, due diligence and audit. David is a corporate expert specializing in administrative back-office accountability while assisting in general business compliance aspects including mergers and acquisitions. He earned a Master of Business Administration in Strategic Management/Organizational & Managerial Behavior from the University of Chicago and Juris Doctor from IIT/Chicago-Kent School of Law.
John Mott
Chief Technology Officer
Thirty plus years of software development experience which includes a diverse skill set including an early operating systems programming background in C/C++ and Assembler. For the last 15 years John has focused on web technologies, C#, .NET, MVC, MSSQL, PHP/MySQL, JavaScript, AJAX, JSON and Jquery with the most recent focus on Blockchain technologies, Digital Assets and distributed ledgers with regards to real world applications.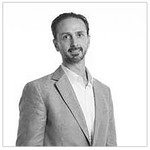 Carter Matzinger
President of Surge Logics, Inc
Mr. Matzinger is a results-driven entrepreneur for over 25 years focusing on the online and mobile marketing industry. He holds a deep insight into the world of online marketing, including content development, emailing, social media, and performance-based marketing such as CPA, PPC, and CPI. Carter has launched and deployed custom built software, led tech and marketing teams to grow different marketing verticals.